CONCENTRIC CIRCLES
These circles are a tool to guide you through daily prayer. We pray for ourselves first and then move outward. [It's important to start with self, because we are the most needy. If we lose the faith, we can't pray for anyone else.]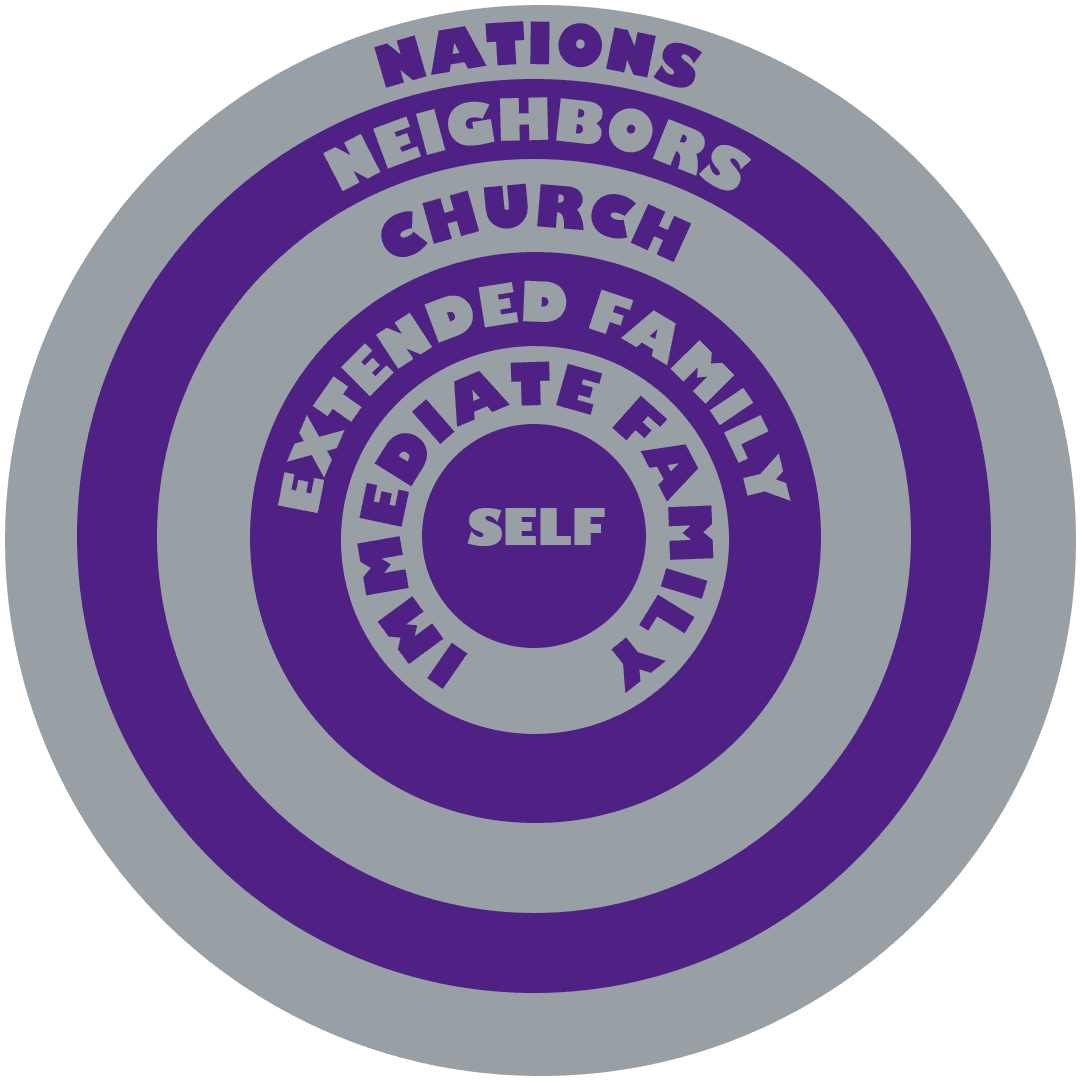 FRIDAY: Neighbors & Nations [Pastor Nick Clason]
Who is someone with authority in your life?
A boss?
A teacher?
A parent?
When someone has authority, they can, of course, flex that authority onto us. And if we're all being totally honest in this moment, we don't always appreciate or enjoy that, right?
But when we, as followers of Christ, willingly submit ourselves to the Lordship of Jesus, it means he is the preeminent authority in our life. When Jesus comes along in Matthew 28:18 and says
"All authority in HEAVEN and on EARTH had been given to me..."
it is probably appropriate that we take the time to listen, right?
(I'll answer that rhetorical question so there is no confusion, "YES! 100% we should listen!")
In light of this cosmic authority, what follows is fascinating and a familiar passage to us all.
"Go make disciples of all nations"
Greek scholars, aka guys way smarter than me, have said that in english the verb in this passage appears to be "go" however, "go" is better translated "as you are going."
Which means the actual verb is for us to "make disciples."
The natural next question then turns to you and me:
As you are going today, this weekend, this month how can you make disciples?
Discipleship and evangelism seem like big tasks and huge churchy words. However, when you boil it down to the most simplistic task, think of it simply this way:
DISCIPLESHIP AND EVANGELISM IS HELPING SOMEONE TAKE THEIR NEXT STEP CLOSER TO JESUS
Discipleship is helping a person who has made a decision to follow Jesus take that step closer.
Evangelism is helping someone not in a relationship with Jesus take a step closer.
It's that simple. Yet, as we all know, simple doesn't mean easy.
But with the authority of Jesus, and his presence promised to us (Matt 28:20) I ask again:
As you go, how can you help someone take their next step to Jesus?
That's fulfilling the Great Commission.
It doesn't have to be this big ordeal, flying your family overseas, or this giant evangelistic event.
Sometimes it is.
But you can fulfill the great commission today, tomorrow, or next week.
As Jesus, the one who has all authority, has reminded us, as we go about our daily routines, we should position ourselves strategically in people's lives, in such a way that we communicate both verbally and non-verbally that we are FOR them.
In view of prayer week, I want to challenge you to prayerfully ask the Lord how you can help someone take 1 step closer to Jesus this weekend.
For real.
Stop reading right now, and ask him that question.
THURSDAY: Church [Pastor Brad Cunningham]
If you want to see how valuable something is to someone, see what they are willing to sacrifice to obtain or retain it. According to Acts 20:28, the church is deeply valued by God. It reads,
28 Keep watch over yourselves and all the flock of which the Holy Spirit has made you overseers. Be shepherds of the church of God, which he bought with his own blood.
The body of Christ, the church, is so valued in God's grand plan of redemption that He was willing to shed the blood of His only begotten Son to bring it into being. Contrast this sobering reality, with the casual view we often have of the church as simply a place we attend when nothing else is competing for time in our calendar. In the New Testament, the church was a family of interdependent relationships, not a weekend event. In a culture filled with podcasts, streaming services and online campuses, this picture of the church is truly counter cultural. While technology has many incredible benefits that lend themselves to the spread of the gospel, it also can work against the New Testament pattern of church as family working together to advance the gospel and gathering together to build each other up in the faith. God values those efforts so deeply that He made the ultimate sacrifice to bring them to fruition.
At the end of every service, we recite the great commission together as a reminder of the mandate on our lives as followers of Jesus Christ. This is the mission that Jesus left for us and the vehicle for carrying it out, is the local church. We say often that the church is God's Plan A when it comes to carrying out the Great Commission. It is the only God ordained institution in Scripture given this eternally significant task of making disciples of Jesus Christ. If the gospel is the most important message ever communicated, and the local church is the God ordained vehicle for communicating that message to the world, then in a very real sense, the local church is the hope of the world.
Therefore, we cannot devalue what God so deeply values by failing to pray for the disciple making efforts of Liberty Heights Church. For 2020 would you join me in faithfully praying for the following for LHC:
· That we would experience continued unity
· That we would continue to see people move out of anonymity and into Biblical community
· That God would grant us wisdom as we look to add new staff members this year
· That God would bless our continued efforts at church planting and new campuses
· That our posture of dependent prayer would not decrease despite an increase in available resources over the past several years
· That God would give us wisdom as we continue to navigate all the legal hurdles related to the merger of our Lebanon campus
WEDNESDAY: Extended Family [Pastor Kyle Evans]
WHAT TO DO WITH COUSIN EDDIE…
The Holidays are over…
The over-extended schedules…
The over-sugared kids, sharing your private car conversations with virtual strangers that share your last name…
The forced encounters with people you try your best to see only a few times a year…
It's finally over…
You survived another round of festivities with your real-life versions of Cousin Eddie! #winning
What if I told you there was a simple way to make next year a little more enjoyable?
It all starts with PRAYER. Not the under your breath as you enter a room and throw up a help me survive type prayer, but an intentional scripture-based prayer strategy. If you do not know where to begin praying for your extended family, scripture is a great place to start!
Take a few minutes and read through Jesus' High Priestly Prayer from John 17.
Six prayers (from Jesus' prayer FOR His family) that you can start praying FOR your extended family TODAY…
1. FOR SALVATION: May they come to know You, experience Your love and have hope in the eternal life you offer. (vs 2-3; 26)
2. FOR PURPOSE: May they follow You so that Jesus is glorified through their lives. (vs 9-10)
3. FOR JOY: May they experience the fullness of joy that only You can bring. (vs 13)
4. FOR PROTECTION: Keep them from falling into the enemy's destructive traps. (vs 15)
5. FOR GROWTH: May they come to know You better and grow in Your truth. (vs 17
6. FOR UNITY: Help unify our family so that the world may see You more clearly. (vs 22-23)
These prayers are not a stopping point, but a launching pad for you to begin intentionally praying for your extended family. You may not see them change, but there is a 100% guarantee that your view of them will change in the process (and maybe even make your next family gathering a little more enjoyable).
TUESDAY: Immediate Family [Pastor Chris Anderson]
I'm an admitted mama's boy. I've been blessed with a mother that has poured into my life in every way imaginable. My earliest memories are sitting beside my mom as she sewed with her old Singer sewing machine (which she still uses to this day). My mom read hundreds of books to me. She played outside with me and instilled a love of sport. She taught me how to cook and clean and even sew! My earliest memories include her constantly telling me how handsome she thought I was. She continually affirmed to me God's desire to do something special through me and she was always the proudest mama in the room. But two things stand out from my childhood more than any other thing…the old worn out Bible that she took down off the top of the refrigerator and read EVERY day, and the constant prayers that she offered on my behalf. Her prayers followed me through high school, college, the early days of marriage and family, and throughout every job title that I've ever carried. About 15 years ago, I remember blowing out my knee and developing a dangerous and painful blood clot in my leg…it was easily the most painful thing I've ever experienced in my life. When I reached the point where I could no longer bear the pain, I called my mom knowing that she would cry out on my behalf. Just the knowledge of her prayers brought comfort. To this day I am convinced that I would be half the man that I am without the faithful prayers of my mother and I STILL call or text her often with things she can pray for on my behalf.
I wish I could say that I pray the same way for my girls…but truthfully, I probably don't (thankfully my mom has added all of her grandchildren to her daily prayer list). This past year, I've worked diligently to develop a more consistent prayer life over my children (and one that I hope would make my mom proud). Attached are the things that I pray frequently for each of my girls - I'll also share a list of prayers that you can add for your sons! (developed from material shared by my favorite Twitter pastor, Dustin Benge).
4 THINGS TO PRAY FOR YOUR DAUGHTER
1. May she possess a heart full of wisdom (1 Kings 3:9-12)
2. Give her a great desire to accept your Word (Psalm 119:16)
3. May she long to do Your will at all times (Psalm 40:8)
4. Help her to walk in the worth You have given her (Proverbs 31)
4 THINGS TO PRAY FOR YOUR SON
1. Create in my son a clean heart (Psalm 51:10)
2. May my son walk after You, God (Deuteronomy 13:4)
3. Make my son strong and courageous (Deuteronomy 31:6)
4. May my son be an example in speech, conduct, integrity, love, and faith (1 Timothy 4:12)
MONDAY: Self [Pastor Scott Kennedy]
Proverbs 3:5-6 (NASB)
5 Trust in the Lord with all your heart
And do not lean on your own understanding.
6 In all your ways acknowledge Him,
And He will make your paths straight.
Do you trust the Lord? If you are a Christian, you would probably tell me, "yes—of course I do!" In reality, most of us trust in the Lord in some areas of life, but lean on our own understanding in other areas of life.
Life is a journey, and we are each moving toward some desired destination. Every destination we move toward, requires a way, path, or a route to get there. Sometimes, we choose good destinations, and move toward them on straight paths. Other times, we move toward our good destinations on foolish, crooked paths. Sometimes we choose foolish destinations and move toward them on foolish paths.
Trust in God, practically—means letting God define our desires, and define the paths, ways, or routes to obtain these desires. Trust in God also means letting God define the ways we respond when we are not able to get to our desires fulfilled.
So, do you trust in the Lord with all your heart? Ask yourself a few additional questions to help you decide.
What do I desire?
Has God said this desire is permissible for a believer to pursue?
If the desire is permissible to pursue, am I choosing a foolish way, route, or crooked path to obtain it?
If my desire is unobtainable, do I lean on my own understanding and respond to disappointment in foolish and destructive ways (i.e., travel down crooked paths)?
Perhaps, an example would help. I want my children to obey my wife and I. This is a good destination, or desire to have. God has stated that children are to obey their parents in the Lord, in all things (Eph. 6:1-3; Col. 3:20). Am I allowed to obtain the obedience of my children (this good desire) through outbursts of anger and ungracious words? According to the Bible, I am not (Gal 5:20; Eph. 4:29; James 1:19-20).
This little illustration demonstrates that I do not trust in the Lord with all my heart if I accomplish the obedience of my children in sinful, unbiblical ways. I have leaned on my own understanding and traveled down foolish, crooked paths and ways to obtain a good desire, or to handle the disappointment of not obtaining a good desire.
God help me trust You with all my heart. Let Your Word define what I desire. Let your Word define how I obtain what I desire. Let Your Word define how I handle disappointment when I don't obtain what I desire. Jesus, don't let my desires (Mark 4:18-19) become more important to me, than my desire to please you, and obey you. When I do, I am not trusting you with all my heart, but leaning on my own understanding.